We offer an excellent choice of refurbished laptop computers at discounted prices and take great pride in our customer services.
Why should I buy from a Microsoft Authorised Refurbisher?
100 percent genuine Microsoft software
The removal of all previously stored data
Support and updates from Microsoft
Counterfeit software can be a serious threat. It can lead to a corrupted system, a loss of data, or even identity theft.
   Benefits of purchasing from MicroDream.co.uk
High quality PC / laptop preinstalled with a genuine operating system license
Allows access to benefits of downloads, updates, and enhanced features
Provides upgrade path to future releases of the Windows operating system software
Re-using PCs helps to reduce e-waste
Many applications don't require the latest technology, save money by buying a system that suits your requirements
After several years of hard work and dedication, we have become a Microsoft Authorized Refurbisher! There are only approximately 14 MARs in the United Kingdom. As a Microsoft Authorized Refurbisher, we must follow strict requirements established for the MAR program by Microsoft. These requirements are designed to ensure that you receive a high quality and professionally refurbished computer.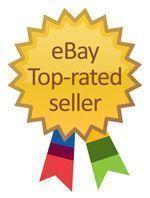 We are proud to have been awarded the eBay 'Top Rated Seller' mark. This is awarded to sellers who consistently receive "excellent" ratings from real customers over a long period of time. Scoring for the award is based on attributes such as:
Item Description
Communication
Despatch Time
Postage & Package Charges
...and MicroDream has scored consistently highly on all these.
We offer an excellent choice of products at discounted prices and take great pride in our customer services. We are always on hand to offer advice on choosing the right product to fit your computing needs.
Thank you for looking and we hope that you will enjoy the service you receive from us.